The objective of the L'Association Frehindi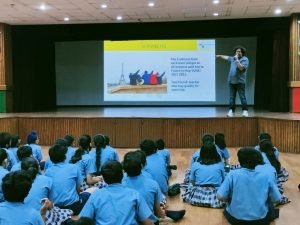 To promote global understanding with special focus on youth of France & Francophone countries with the youth from Indian subcontinent by showcasing contemporary aspect of both regions in areas of cultural & linguistic integration, appreciating of heritage & getting to know the importance of natural wellbeing via online & offline activities such as workshops, fairs, events, meet-ups, counselling sessions, intercultural workshops in partnerships/collaborations with local institutions, cultural organizations, embassies & companies in both the regions.
The association seek to work in following areas :
Events / fairs / conferences / workshops under the patronage of Indian Embassy in France.
To celebrate & promote contemporary India & France with today's youth.
To let discover the traditional historic Indo-French strengths, economic opportunities & partnership possibilities.
To promote arts & artists from either regions.
To jointly host events & fairs every year in France, Francophone countries & Indian subcontinent to promote friendship/partnerships between different regions linking general population with special focus on youth.
Alps-Himalayas Project
To increase cultural & economic affinity of youth & businesses between Rhone-Alps & Himalayas regions of India, Bhutan & Nepal.
To conduct & promote joint Indo-French expeditions & excursions.
To help the tribals & locals in Himalayan regions to preserve the environment by sustainable means
Intercultural Activities
To conduct linguistic based inter cultural activities with the help of virtual tours & offline sessions between between youth & teachers for both French, Hindi & various other regional languages.
To conduct sessions / classes on inter-cultural understanding, ways of doing business, dances & letting discover the rich heritage.
To conduct fund raising activities for all such cultural & heritage discovery exchanges.
Indo-French youth club 
To help the Indian students coming to France to integrate culturally, logistically & linguistically by providing pre & post landing counselling workshops & vice-versa for French students going to Indian subcontinent.
To help the youth discover skill development programs, internships & recruitment opportunities available in all the regions.
To work in partnership with local SME'S for supporting & training of youth of India & France.
To enable students & teachers in France to help online & offline the underprivileged children in Indian subcontinent by imparting training based on languages & soft skill development.
To conduct Indo-french youth camps in all Francophone regions with special focus on Rhone Alps regions, Himalayas & Auroville in Pondichery.
Promoting Natural Wellbeing & boosting immunity naturally
The association will seek to promote benefits of Yoga & Ayurveda in France among youth & conduct awareness sessions with experts from India & Srilanka.
The association will celebrate the World Yoga Day & World Ayurveda day by conducting events & workshops for the youth.
The association will produce both online & offline content like blogs, books, broachers etc. to promote Yoga & Ayurveda.
The association will work closely with Bio-shops to promote vegan & vegetarian food among the youth